Enabling conversations that matter
We believe conversations that matter help us make better decisions for our ourselves, our organisations and our communities. We make dialogues more useful by designing them to engage people, clarify issues and solve problems. Our facilitated events enable our clients to deploy effective strategies for success.
Find out how we can help enable the conversations that matter to you.
Supporting Stronger Communities
Brick By Brick - Our CSR Programme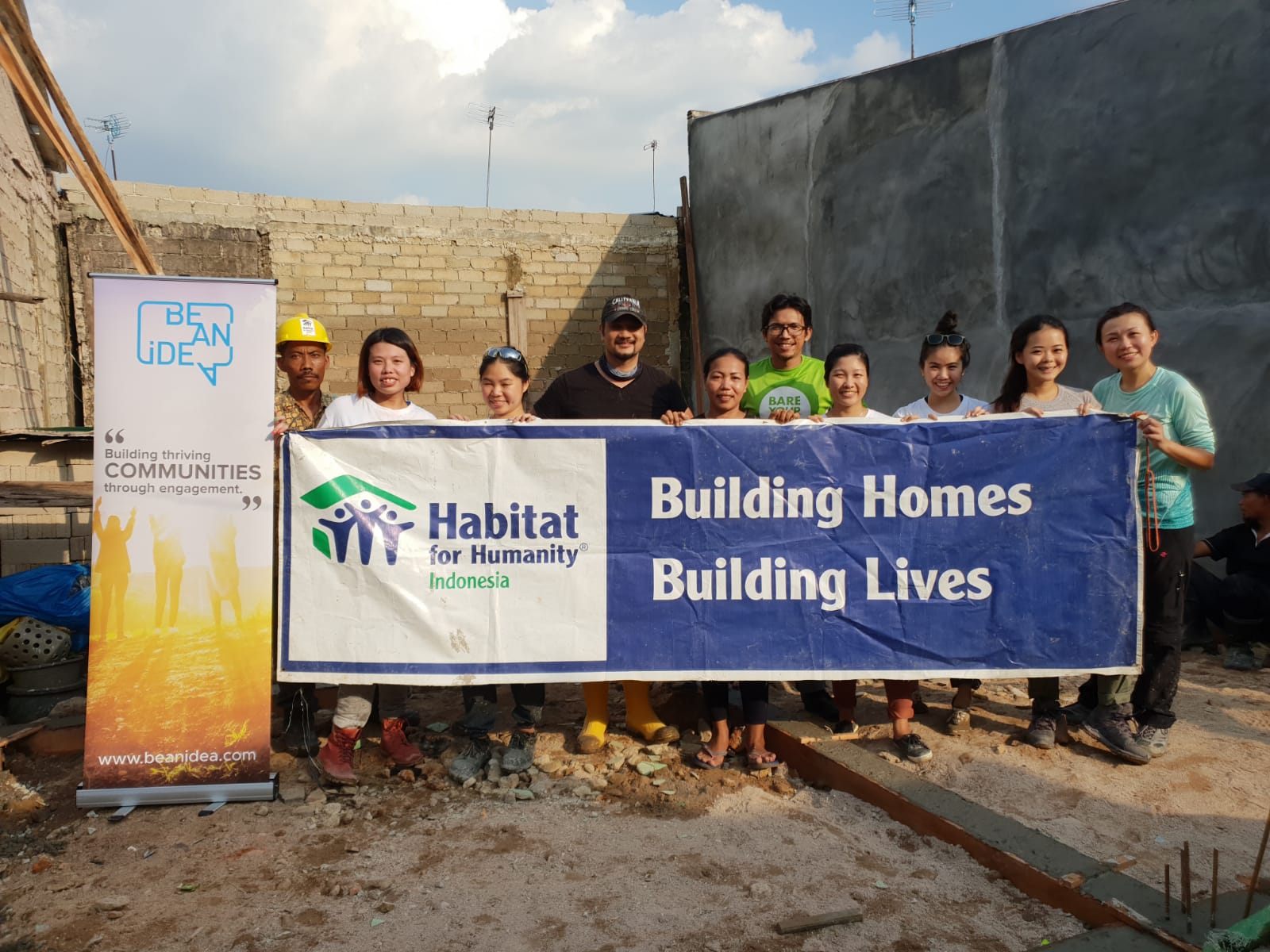 On Nov 24, Be An Idea had headed to Kabil Village for our second Batam Build with non-government organisation Habitat for Humanity. It was the second time for the brand strategy consultancy and its friends to help build strong communities.
Read More →
On June 9, Be An Idea sent a volunteer team to the Indonesian island of Batam to collaborate with Habitat for Humanity's mission to provide affordable housing for locals as well as support our personal mission to build thriving communities. The 6-strong team, led by founder Nadim van der Ros, was made up of Be An Idea team members and volunteers from our extended network.
Read More →
In January, Fuze Night brought together people who were keen to learn, meet and share their ideas, to build better together. We heard from General Assembly, GRAB, Dakota Adventures and Tango 5 share inspiring narratives of social change.
Read More →
In November, Fuze Night brought together people who were keen to learn, meet and share their ideas, to build better together. We heard from Think Big Communications, Pangdemonium, UN Women and Jia Foundation share inspiring stories of their work, and took part in a giving experiment, organised by The Social Co. for Giving Week.
Read More →
We jointly hosted women leaders in social innovation, in conjunction with the Young Women's Leadership Connection's Ladies' Night - and heard from NVPC, the Awesome Foundation, The Social Pantry and BLESS - Bringing Love to Every Single Soul.
Read More →
A strong brand identity builds trust and improves brand equity. How do you build and maintain brand consistency so the brand can grow globally and yet retain its identity in different markets and across diverse customer segments? Here is where a solid brand strategy helps, and these are five principles to building one.
Read More →
A look at how tri-sector collaboration can address the problem of food wastage, especially in Singapore. Co-written by our strategic solutions consultant, Anthony Caravello, for Singapore Management Universities, Tri-Sector.
Read More →
Lydia Marie Ng takes a look at the recent popular campaign by SKII to address the issue of sheng nu, or "left over women" in China. She debates whether it can work as a force for positivity or potentially do more harm than good.
Read More →
Be An Idea revisits Habitat for Humanity's Batam Build for another build as part of the Brick By Brick programme.
Read More →
Be An Idea is changing. In fact, we've been quietly changing over the last several months and what's really changed is that we're ready to announce this to the world. We recognise that being a 6-year old enterprise that is still pivoting in start-up mode feels very much like being Steve Carell's Andy Stitzer character in Forty Year Old Virgin. We've pivoted a few times and each new pivot sows plenty of confusion about what we do.
Read More →
I am very pleased to wish Singapore a happy birthday from myself and behalf of Be An Idea. Over 9 years ago, I came to the shores of this island nation with a hope to build a life, and it has been amazing to see how the country has developed in a short decade, let alone the last 50 years. While other countries are locked into a direction by the weight of history and their culture, as a young nation, Singapore has an emerging discourse on its direction and values that is both vibrant. It feels like a work in progress, but one that its people, residents and foreigners can still greatly influence in the choices that we make.
Read More →